As a reminder, these are off-the-cuff reviews that I peck into my phone as soon as I finish the book. A literary critic, I am not. Also, this is real heavy on the self help. I've had a year.
Here's what I've been reading!
Hunger: A Memoir of (My) Body
by
Roxane Gay
My rating:
5 of 5 stars
I have no idea how to review a book that exposes this much vulnerability and uncomfortable truth. I felt this book the whole time I was reading it. And it felt uncomfortable, powerful and necessary. As someone with PTSD and my own self-built, emotional fortress, I have so much compassion and respect for what Roxane did in writing this book. I can't imagine the balls it took to write this, and then to go on tour and answer questions about it. To know Roxane's writing is to know she is a force, but so few people understand that a lot of times, being a "force" comes from trauma and living with unspeakable pain. This book should be required reading for everyone from young boys to adult women. And I hope it wins every goddamn award that exists.
The Mother of All Questions
by
Rebecca Solnit
My rating:
5 of 5 stars
Powerful, must read. I read a lot of work from feminist writers, and this is the best book I've read so far. It'll fire you up without making you mad. It's more of a constant, low-simmering heat. My wish is for everyone I know to read this book. Much more engrossing than Men Explain Things To Me.
Into the Water
by
Paula Hawkins
My rating:
3 of 5 stars
Meh. It's okay. Not as gripping as The Girl On The Train. This one was easier to figure out. Still a fun, quick read.
Help Thanks Wow: The Three Essential Prayers
by
Anne Lamott
My rating:
5 of 5 stars
Short, beautiful book. I love Anne Lamott. Highly recommend.
The Body Keeps the Score: Brain, Mind, and Body in the Healing of Trauma
by
Bessel A. van der Kolk
My rating:
3 of 5 stars
As someone with PTSD, this book went a long way in helping me further understand my PTSD. Many parts of the book were triggering and I'd have to walk away from it for awhile. It's not a fast read. It's dense and talks a lot about rape, molestation, and child abuse. I don't know that I'd recommend reading this book if you're not also in therapy. But the book was very helpful to me.
The Financial Wisdom of Ebenezer Scrooge: 5 Principles to Transform Your Relationship with Money
by
Ted Klontz
My rating:
2 of 5 stars
Ugh, I hated this book. It's condescending. The exercises are helpful, but made me paint myself in a harsher light than needed. My therapist had to work to show me that the version of myself this book brought out is an old version (Kim 1.0). The current version of me (Kim 2.0) figured most of this shit out a long time ago and is mostly okay in regards to money. This book made me feel like I'm a lot more effed up than I am. If this book gets recommended to you, read it, and do the exercises, but check any revelations you have about yourself with your therapist.

You Are a Badass: How to Stop Doubting Your Greatness and Start Living an Awesome Life
by
Jen Sincero
My rating:
5 of 5 stars
This is super self-helpy, but also super awesome. I'm surprised I don't know more people talking about this book since I know so many business owners and kickass corporate people. Everyone should read this book. *high-five emoji
Gwendy's Button Box
by
Stephen King
My rating:
3 of 5 stars
I stayed up until midnight finishing this book. Short, quick read. It isn't "scary", but it's thrilling and fun to read.
This Is Just My Face: Try Not to Stare
by
Gabourey Sidibe
My rating:
3 of 5 stars
This is a great memoir. The sequence of the chapters, and the story, make sense. Gabby is hilarious. If for nothing else, read it for the chapters on "phone sexery" and how she came to be cast in Precious. Funny, inspiring book.
Yes, Chef
by
Marcus Samuelsson
My rating:
4 of 5 stars
I loooooved this book. He wrote it in 2011, so it's a tiny bit out-dated, but it doesn't make any difference in his story. This is his story of his life, and OMG, its heart-breaking and inspiring. Great, great book. Definitely read it if you're interested in the NYC restaurant scene.
Love Warrior: A Memoir
by
Glennon Doyle Melton
My rating:
5 of 5 stars
I didn't need this book when it came out, but when I needed it, it was there and it helped immensely. Read this book if you need it.
Book of Longing
by
Leonard Cohen
My rating:
3 of 5 stars
I know nothing about Leonard Cohen or poetry, but I picked this book up at a friend's house and couldn't put it down, so I bought it. I enjoyed reading it, and it's made me more curious about poetry. Weird little book that I'm really glad I read.
In a Dark, Dark Wood
by
Ruth Ware
My rating:
5 of 5 stars
This book is so scary! I loved it! I couldn't put it down. Hurry up and write more books, Ruth Ware.
The Female of the Species
by
Mindy McGinnis
My rating:
3 of 5 stars
I almost put the book down about 50 pages in because a lot of the early story takes place in a rural animal control shelter and I couldn't read those parts, but I stuck with it and those scenes end pretty quick and the rest of the book is fine. That being said, I couldn't put this down and read it in one or two sittings. Lot of trigger warnings though. Know what it's about before you pick it up.
All the Single Ladies: Unmarried Women and the Rise of an Independent Nation
by
Rebecca Traister
My rating:
3 of 5 stars
Great book that most of my friends would get a lot out of. Three stars because it's dense and took awhile to get through. Worth reading though.
I Feel Bad about My Neck: And Other Thoughts on Being a Woman
by
Nora Ephron
My rating:
5 of 5 stars
I loved this book! I'm already a little freaked out over aging and dying, but if anyone is going to freak me out any more, I'm glad it's Nora Ephron.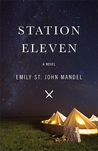 Station Eleven
by
Emily St. John Mandel
My rating:
5 of 5 stars
I loved this book! Couldn't put it down. It's dark and I dreamed about it every night while I was reading it, but it is a remarkable book. So much to think about!
P.S. Forgot what I read in the first part of 2017?
Here
you go!